Basketball Shoes that Help You Jump Higher
28 October 2010
2 Comments
If you come down to it, there are a few types of basketball shoes that help you jump higher. Now I didn't say a specific brand or kind, because everyone has different feet and shoes fit people differently. Just like buying Air Jordans won't make you a better basketball player, buying Vince Carter's shoes won't make send you into the air higher.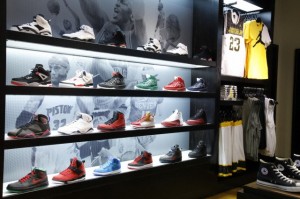 I remember my freshman year of basketball in high school, the team captain had picked out the Pippen's by Nike which looked awesome in the catalog, but they fit all of us too big. And since we had to tie them tight to stay on our feet right, we all ended up having these long shoes that were tightened so tight they started bending up in the toes. They looked like clown shoes. It was horrible, yet really funny.
So what kind of basketball shoes will help you jump higher? Well, remember that lightness and stiffness play a huge role in your basketball abilities. The lighter the shoes are, the less weight you will be jumping around with. A lot of basketball shoes are made heavy because of the leather and the thick soles, but you can find lighter ones, so look for those to help you jump higher.
Also the stiffness of the sole will give you a better platform to jump off of. When you push off the ground, you want all that pressure going straight into the ground to force you upwards, and if the sole of your shoe is taking all of that energy, it will be like jumping on sand (think of how much sand compresses when you try to jump from it. It is possible, but you work a lot harder than necessary).
So take those two tips in mind when you go shopping for new basketball shoes. And a few extra tips, make sure they are comfortable over everything, because if you are thinking about how uncomfortable your feet are, then you won't jump high at all. You'll be distracted the entire time. And also if you feel like the shoes will make you jump higher, then they will. I remember another year our team had these Reeboks which I had never tried before, but I felt like I could jump like Superman in them, and so when I was out on the court, I was always trying to jump higher and higher to live up to this feeling I had about these shoes.
So try out a lot of shoes and find one that works the best for you.
See Part 2 of Basketball Shoes that Help You Jump Higher