How Can I Jump Higher
25 October 2010
No Comment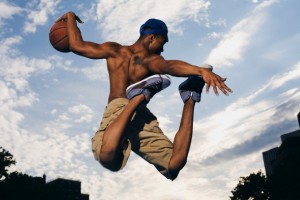 When you look at the NBA players or high jumpers or whoever, you see how easy it is for them to elevate off of the ground. With a simple step, they just fly through the air, jumping over other people or whatever stands in their way. So if you are asking How Can I Jump Higher, it really is not that hard to learn like they do.
The real key is repetition. The truth is that most athletes have been doing the same thing over and over and over every day for most of their lives. So the reason they can jump higher than most is the simple fact that they do more jumps every day by just doing their sport. So definitely if you are wanting to dunk or whatever, make sure that you are playing a lot of basketball and giving everything every time. The first time I dunked was when I was playing 4-5 hours of basketball every day in Europe with my team between practicing, playing in games and putting on basketball camps. Before that, I could jump, but not enough.
So just doing the same things over and over will strengthen those specific muscles.
But you want an edge, right? You want to know how you can get to that point as quick as possible.
So here are some ways if you're asking How Can I jump Higher:
Weighted Jumps
Your legs are the most powerful muscles in your body. But they are also the most overlooked when exercising because you don't see them as much. But strengthen these and you will get your entire body off the ground much more easily and more quickly.
Grab a pair of light dumbells. 10-20 pounds is enough
Hold these in your hands and do some jumps. Jump up stairs or onto a step. Make sure to bend at your knees and use your entire legs to explode upwards.
Do a high amount of repetitions
Squat Jumps
Your thighs (and especially your quads) hold the power in your legs and in jumping, so strengthen the explosiveness here to get you further off the ground.
Hold your hands behind your head, and bend at your knees and hips into a squat position.
When your thighs are almost parallel to the ground, explode back upwards and jump as high as you can. Don't hold back!
When you return to the ground, bend your knees and go straight back into the next rep, squatting down to jump back again.
Again, do a high number of reps, like 25-30 reps
Quick Jumps
Quick Jumps will focus on your calves which can focus on the immediate quickness to start the jump off the ground.
Stand straight legged with your feet close together.
Using only your lower legs, jump 6-10 inches off the ground like you would with a jump rope, only higher.
Jump at least 100 times, and increase the number each week by about 50 more.
These are a great way to get started, and you should see a good amount of improvement by strengthening those muscles. But if you want the full program that got me consistently dunking in games, and increase my vertical by 10 inches, then check this out.
I seriously would never have thought that I would have a 40+ inch vertical, but since I have increased my vertical to 44 inches, I've been wanting to increase it to 54 inches. That's my goal. And I know it is within reach because of what I have learned in this jump program.
Take a look, and if you don't get the results you want, you'll get twice as much money back as you paid. So there is no reason to say no.