How to Start Jumping Higher
The question of every athlete is how to win. After that, the question is how to dominate and how to stand out. No matter what sport you are in, there are ways to get the edge and stand out. For basketball players, jumping higher is the key to grabbing extra rebounds, layups and dunking.
Not only that, but also the muscles used in jumping can be used for sprinting and other explosive movements that make up the game of basketball. So by learning how to jump higher, you can also gain a bunch of other skills that will give you an edge over the competition.
So enough about that, how do you do it?

How do you start Jumping Higher
There's a few things you should know, but remember that you don't have to understand everything to make it work. You don't have to know everything about electricity before you hit the switch to turn the light on. So don't waste time with the technical details and focus more on what get results.
1. Train Your Fast Twitch Muscles
Your fast twitch muscles are the muscles that fire quickly. They are not the muscles for endurance, they are the muscles for quick bursts such as short sprints and quick explosive movements. So don't waste time with exercises that focus on slow movements such as squats or situps or leg lifts. Those are good for strength, but not for jumping higher.
Instead focus on quick movements and short bursts of energy, which leads to the next point.
2. Use Jumping Exercises to Start Jumping Higher
If you want to bench press a heavier weight, what should you do? You should bench press. So if you want to be jumping higher, then you should be jumping as high as you can, and do it a lot. So look to jump squats, jump rope, high jumps, and other kinds of exercises.  See this complete list of jumping workouts and exercises.
And that is because you need to strengthen the right muscles, which you may not realize are the main jumping muscles.
3. Strengthen The Right Jumping Muscles
You may think that your legs are the muscles that make you jump higher, and you aren't completely correct. Actually your legs are less than half of your jumping ability. Aside from that, your core, your butt and your calves are the most important factors of your jump.
If you think about it, your butt is the biggest muscle in your body and therefore it has a large part to play in straightening your legs. That means it is extremely important in pushing your legs out straight and giving you the initial push up. And after that, your calves are the last bit that gives you the extra push. So when you are moving up, your calf muscles are that final step to stretch every inch out of your vertical.
So by strengthening both of those with quick, jumping movements, you can improve your vertical.
But that's not all, the muscles that a lot of people forget about are your core muscles. That is your abs and back muscles which hold your body stiff which is what you need for a strong, steady platform for jumping. Exercises like the ones we mention in our jumping exercises will strengthen your abs and back in a safe way to give you that rigid foundation.
Products To Help You Start Jumping Higher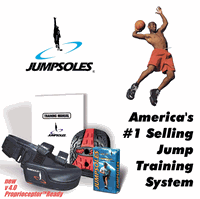 There are a lot of products available, but honestly, you don't need much at all. You really don't need anything unless you want to pay for it (like basketball shoes to jump higher) but if you do, you can start jumping higher much more quickly than without. Use them as tools, don't rely on them for everything. You still must put in your workouts and exercises, but when you have the following, you can start jumping higher in a much shorter time.
Jump Soles are the number one best jump shoes available and more people have seen improvement on them than anything else. The reason is because they focus on strengthening your calves which can be easily overlooked.
Weight Vests are the next most beneficial piece of equipment to strengthen your jumping muscles because it allows you to add resistance when you do your normal things, then once you take it off, your muscles are much stronger than before. Check out these two which are my favorite: MiR 20LBS Adjustable Weighted Vest and the Valeo WV40 40-Pound Weighted Vest
Ways and Resources to Start Jumping Higher Quickly
You can find a lot of information on the internet and other places, but like I've said before, be careful from where you get your information because a lot of people don't know what they're talking about. So make sure to check with your track coaches or other resources before you start just jumping, because that can be a quick road to injury or actually losing your vertical jump.
But there are other resources available, both free and premium, just remember that you usually get what you pay for.
Jump Manual – this is by far the best program at the best price. It has everything that the expensive programs have, and twice as much as the cheaper one's do. Most downloads and books that you get are just that, a nice book that has told you everything I've told you here for free. So for all that, you get customized workout plans, eating plans, and videos and one-on-one coaching sessions as well as a money-back guarantee that you can't beat. If you don't see results, you get twice as much money as you paid. That means you make money if it doesn't work for you. It's a win-win situation.
Vertical Explosion is another program that is just that, a simple book that has a lot of information for you to read and do. The good thing about that is that it is a little more in depth and has a lot more than your typical Jumping Higher ebook.
The Vertical Project is an extreme course that costs nearly $500! So either they're selling snake oil or diamonds. I'm voting for the snake oil, especially since you can get the same results from programs less than a tenth of the cost.
Otherwise you can find information in places like this blog which will give you a wealth of information for free, but if you are serious, don't talk yourself out of getting a program, because if you put in the time, they are worth it.
So Where Do You Start Now?
If you are truly serious about starting jumping higher, then spend the money to purchase a program. And I've seen the most gains from people on the Jump Manual, but if another one catches your interest, then go with will work for you, but don't hold off with taking action.
If you don't want to spend money, then sign up for the newsletter and get a list of workouts to increase your vertical jump and then start using them each day. And follow this guide to keep with your jumping workouts so you can see some results.