Plyometric Shoes for Your Plyometric Workouts
If you want some great ways to jump higher, plyometric shoes are a great way to really start you improvements. The best thing about plyometric shoes are that they are great to wear during your jumping workouts in order to focus on the jumping muscles in your calves as part of you plyometric training.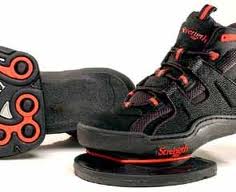 There are a few different plyometric shoes, but there is a basic form to all of them. They all have a large platform on the front of the shoe. It is like a reversed high heel shoe. So you will be using more of your calves and have a larger range of motion from your toes. As you can see in the picture, there is a platform that literally keeps you on your toes at all times.
There are the most popular, which are the jump soles which you can easily slip over your own shoes, and then take them off when you want to play basketball or after your workout. These are great if you need something to throw in your workout bag and use when you've got time.
But if you are more serious, then buying a pair of plyometric shoes specifically for this would be more ideal. That is where the ATI Katapult Training shoes come in. These shoes are great for your plyometric training to wear through the entire workout. With these, you can easily build strength with complete shoes which will give you more control.
And lastly, there are the Strength Training shoes which everyone else has copied. These shoes are the original, but not necessarily the best. They will give you a bit more rigid feel, so if you like that, I would go with these instead of the ATI Katapult shoes.
So try some of these plyometric shoes out and try them in your plyometric workout. You will definitely see an improvement from them because they will target the jumping muscles in your calves.
Other Popular Posts // Jump Higher