Plyometrics Boxes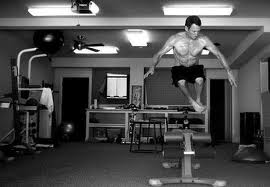 One of the best jumping workouts to increase your vertical jump are to use plyometric training. The only thing you will need are plyometrics boxes, and there are a lot of different kinds out there. And you can make them yourself or buy some professional ones, or use obstacles around your gym or house as well.
But as for plyometrics boxes, the most important things are that they are sturdy so you won't kick them over or slip off the top of them. Trust me, it hurts.
After that, it is good to have different heights. I have a bunch of different heights at my gym, but the most common ones I use are 24 and 30 inches tall. You will probably want at least 20 and 24 and maybe 30 inches tall, depending on how high you jump. And remember that you can usually stack plyometrics boxes on top of each other to make them even higher.
I have always preferred the wooden plyometrics boxes since they are typically heavier and feel a lot sturdier. I never felt like I was going to kick it over or slip off of them, which I have with the cheaper ones. And more than anything, you want to feel safe when you are jumping on top of a 30 inch high box. You can find these wooden plyometric boxes here from Amazon.
There are also some metal plyometrics boxes that I have liked are these ones which sit on the ground a bit better and I don't feel like I'm going to kick them over. If you click on the link, you can see that they are more cubed than slanted, which gives them a more solid feel and I've always had better luck with those.
But if you don't want to worry about buying some, and you are a bit more of a handyman than I am, you can always build some plyometric boxes from plywood. So check out these videos to see if it's for you:
Let me know what you think and if you want more ways to increase your vertical up to 10 inches.
Other Popular Posts // Jump Higher