Three Exercises to Jump Higher
1 February 2011
No Comment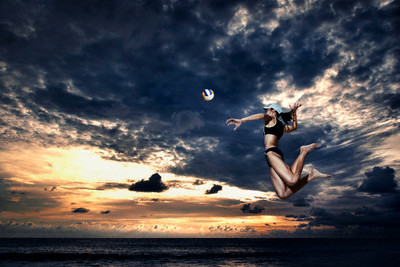 To get back to our Jumping Workouts and ways to start jumping higher, I found some more exercises that could help you out. And the best thing is I did them this morning and they only took me about 10 minutes to complete. So you don't have to spend a lot of time to improve your vertical jump at all. So quit thinking that this will take forever, because it won't.
The first one is called Low Squat Ankle Jumps.
The correct way to do this is by going into a squat position with your back straight and bending at your knees and hips. Lower your body til your legs are parallel with the ground or even lower. Make sure to go deep, as they say.
When you reach that point, hold for a couple seconds, then bounce without moving your upper legs. Make sure to stay in the squat position. Think like you are hopping around, but stay in one position. Repeat this 20 times and on the 20th time explode up and reach for the ceiling. Do this Low Squat Ankle Jump three times.
The second one is Power Skipping.
Power Skipping gives your muscles that explosive power you need to drive your knee up and propel yourself to jump higher. This is a technique to jump higher as well as an exercise. Think like you are skipping as normal, but with more power and explosiveness.
Here is a video to help demonstrate what I am talking about.
So you can see that it is very easy. The only thing I would add is to make sure that you are doing two different types of power skipping, some with short steps and some with normal steps. So go down one way with ten short power skips, then do ten with normal strides.
The third and last jumping higher workout exercise is the Line Drill.
I'll use the Line Drill because it is easiest, but if you can, get a box or other short (under 10 inches high) obstacle that you can use to jump higher over. Stand on the right side of the line (or obstacle) with both feet together. Using both feet to jump, jump to the Left side of the line and then quickly jump back. Repeat 20 to 30 times.
When this becomes easy, then do 30 times with both feet, then 30 times with your right foot, then 30 times with your left foot.
I hope you enjoy this jumping higher workout as much as I did today. I'm going to do this again tomorrow, but let me know in the comments what you think when you try it out.
Also, I've been asked to talk more about Basketball shoes that make you jump higher, so I'm going to do that later this week after I finish some research.