The Top Ten Reasons Your Jumping Workouts Aren't Working
23 February 2011
One Comment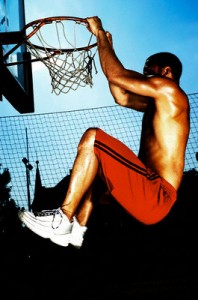 So you have been doing your jumping workouts religiously, right? And are you still not seeing the results you want?
Well there could be some very big reasons that this is happening, so let's cut to the chase. We don't need to keep talking about it when you really need to get out there and show some people how you can dunk.
10. You don't have the right jumping workouts. This is a major problem for a lot of athletes because they grab any old workout that includes your legs and they figure they are good. But remember that just since your legs are burning from working out, that does not mean that you are strengthening your jumping muscles. Most likely you aren't. Download my list of Jumping Workouts to get some exercises that will actually increase your vertical.
9. You aren't doing the workouts correctly. Remember that a list won't do much for you until you use it right. But when you do use it correctly, you will see mountains of improvement. That means you must do your jumping workouts quickly (not a lot of rest to keep your muscles firing), and you must perform jumping exercises (that means not doing leg squats, but exercises like box jumps or similar explosive exercises. See this post for more to get the most out of your jumping workouts).
8. You need to improve your jumping form. Having correct form is one of the biggest problems that would-be dunkers have to keep them back. And because jumping is like running in that it is taught from birth, most coaches just tell you to run more or jump more in order to improve. That is stupid coaching. In order to get the most from each jump, make sure that first you are using your arms as counterweights to swing up and give extra lift. Also, to create the most power from each step, you must line up your body from your foot to hips to shoulders and head.
So if you are leaning too far forward or too far back, then you will lose inches. Have someone video tape you while you jump to see what you are doing and can correct it.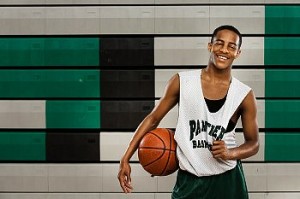 7. You need some friendly competition. Do you workout by yourself? That alone could keep you from massive gains when you work out. By getting with some of the guys, you will push yourself a bit more than you normally would, which will translate into increasing your vertical.
6. You need some unfriendly competition. Sometimes friendly competition just doesn't cut it. Sometimes you need something stronger like your main competitor across town to say something about how you can't jump. Or what if a girl just dumped you because her new guy can dunk and you can't. That will definitely get you motivated to prove that you can.
For the number 1 Reason, see Part 2 of The Top Ten Reasons Your Jumping Workouts Aren't Working.